Why LotUs Assist?
Because our vision is a connection with yoU!
Why the lotus flower?
It is a funny thing how people weave in and out of our lives in ways that we cannot predict. They can challenge the way in which we view the world and reshape our thoughts and purpose both intimately and professionally, making a significant contribution to the people we ultimately become.
Having the privilege of working with a delightful Cambodian family, a beautiful lady we supported lost her battle with cancer. Whilst struggling to accept she was dying her culture and beliefs gave her the peace she needed to let go. Her strength and courage touched us and since the lotus has always played a significant role in our lives.
This beautiful flower represents our values and beliefs that influence our decisions and actions and aligns with our goal of improving quality of life. We assist you to live your life with a LotUs-like mind and heart, to become mindful, compassionate and in charge of your life.
At LotUs Assist, we believe in supporting you to stand on your own, just as the lotus flower does. We are dedicated to work alongside you, focusing on your needs alone. We focus on building your capability which ensures greater choice and control, and most importantly, allows YOU to bloom to your full potential, to live the life you want.
The lotus flower stands on its own, rising above the adversity of the muddy water. Its stem remains securely anchored, strong and flexible. At the core of the flower are the pods. In life, the pods represent us, our family, our friends, our carers and supports. With the support of our pods, we bloom, one petal at a time, just as the lotus flower does. The petals represent our potential and possibilities and our journey of overcoming the obstacles we face one step at a time. As we bloom, we create ripples in the water that surrounds us. These ripples are symbolic of our personal growth, as we gain more wisdom, compassion and kindness.
The lotus flower is a survivor. It pushes through the muddy water in search of support from the sun. Each petal that opens signifies the achievements of the flower in overcoming the challenges it faced. At LotUs Assist, we provide hope and resilience, guiding you from the darkness and giving you the power to rise and thrive, stronger than ever before to live a fulfilled life.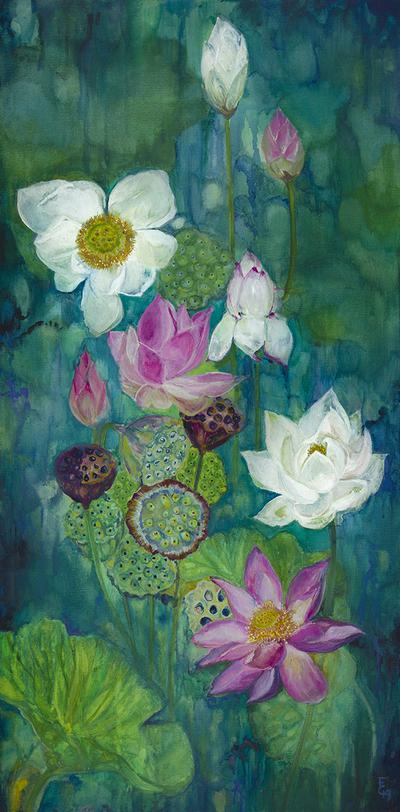 Local Artist, Felicity Cocuzzoli
LotUs Assist would like to acknowledge and thank local Artist, Felicity Cocuzzoli for giving us the gift of this beautiful piece of art and permission to use it as part of our branding.
Indigo Expressive Arts' fine art prints are produced and developed in Newcastle NSW. Indigo Expressive Arts provides a platform for sharing a passion for arts as knowing, meaning-making, connecting and belonging in this crazy world...
Whilst raising awareness of Women's Cancers.
https://www.etsy.com/au/shop/IndigoExpressiveArts
http://www.indigoexpressivearts.com/
https://www.instagram.com/indigoexpressivearts/
What others are saying
"Before I started talking to Helen I was in a very dark place, I had no motivation to do anything, I was constantly putting myself down and doubting myself in every way possible. Helen has helped me in so many ways.
Assisted in making my doctors appointments, helping me with my strategies when I started to feel down again and making sure I was on track with my mental health care plan while still being there for me every step of the way. She has been an incredible support to get me to better myself and be in a much happier place.
I do not know where I would be today if it wasn't for Helen's constant help and support over the last year! I am so grateful to have had Helen by my side and I could not be more thankful for everything she has done for me."
Ally Letheby
Everyone loves some good feedback and it's your turn - LotUs is always the most efficient in processing payments for our participants. Well done 😊
Care Alliance
Thank you to you and your company for such prompt payment with invoices its muchly appreciated and I look forward to working with you guys moving forward.
Clinton Graham
I'm sending you this email to highly commend your staff member, Jayne Cumberland.
I've worked with Jayne with a participant at Coomba Park. Jayne is hands on, very passionate about trying to achieve good outcomes for participants. Jayne talks to participants in a very non judgmental, supportive manner and participants feel at ease very quick. She is generally very interested in their welfare.
Jayne is also very supportive to support staff too. I know first hand.
She's a great asset to your company.
Fiona Stewart
I just want to praise Jayne for how extremely hard she has worked and for everything she and Lotus Assist have done to get all my supports in place. After previous experiences with Support Coordinators nothing has compared to the support and work Jayne has done for me, and I absolutely love her to pieces. I just cannot believe how lucky I am.
Jeni Ryan
"I am a Social Worker and started working with Helen In 2017. She was my Team Leader and I was employed as a Support Facilitator. Helen taught me all about the National Disability Scheme (NDIS) and the role of Support Coordination. Helen was an excellent supervisor who showed great compassion for people with any type of needs for their wellbeing. I am privileged to have worked with her."
Krinent Singh
Having worked with Nicole for many years I cannot recommend her highly enough. She continually strives to provide impeccable customer service. She prides herself on supporting the community and delivers prompt and professional solutions to anything she is faced with. Her attention to detail and productivity is second to none. Nicole goes out of her way to make things as easy and stress free as possible for others. Her empathetic outlook sees her providing a service that is professional, simple and fast, time and time again. There is no one I would trust more.
Nikki Cassar
"Helen is the benchmark that all Support Coordinators should aspire to. Over the many years I have known her, Helen has continually demonstrated an outstanding and unwavering empathy, respect and dedication to her clients and those most vulnerable within the community, through her work and in her capacity as a volunteer.
Her extensive experience and contribution within the industry spanning pre-NDIS, NDIS start-up, NDIS test site through to the present day cement Helen as a leading industry expert.
Helen's experience coupled with her vast network of allied health professionals and not for profit organisations guarantees Helen is best placed to share YOUR journey with YOUR best interests at heart."
Peter Rose